Protection of Vulnerable System Components
OxyCat® catalysts combine two important features:
As oxidation catalysts they reduce organic contamination even at significantly reduced chemical dosage in water treatment, and they sustainable improve taste and freshness!
The unique repellent effects create an insurmountable barrier for microorganisms – Firewall!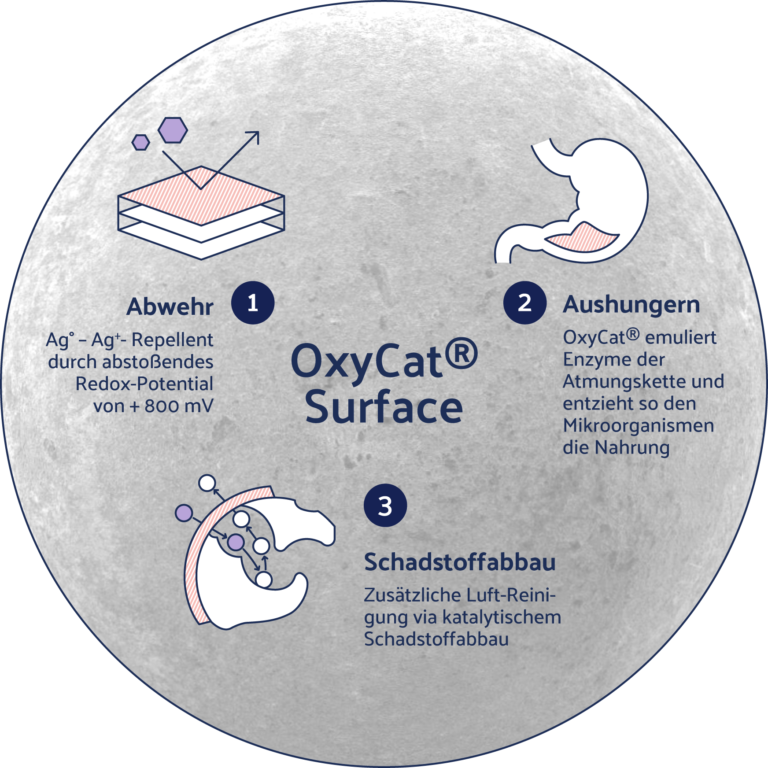 Firewall
The OxyCat firewall https://www.pastaag.li/en/oxycat/ protects components such as shower heads or water filters (i.e. RO or water softening systems) from contamination from the system. Reversely, they prevent microorganisms from entering the system at interfaces such as faucets, shower head etc. This offers long-term biofilm prevention inside the system at exposed components.
Legio ProtectTM
Legionella and other thermophiles are a common issue in cold and hot water systems. Interfaces with the environment are critical. The most common example is showering. Legionella  are predominantly airborne. In a household setting, humidifiers and showers/warm water faucets are the main sources of infection. OxyCat® has been used in humidifiers for over 20 years. Pads for shower heads have been tested in a joint project with a leading manufacturer for germ-free shower heads (reports available upon request). The pads have not proven to be very practical. With our new Legio ProtectTM technology we can now offer a more practical solution:
Legio ProtectTM Cartridge:
Material: Plastic or stainless-steel cartridge with standard interface.
ea of Application: Shower head, water filter, water softening plant, dishwasher, washing machine, warm water
Active ingredient: OxyCat® granules
Legio ProtectTM Tube:
Material: Plumbing tube, plastic or stainless-steel cartridge, standard interface
Area of Application: Connecting tubes or hoses
Active ingredient: OxyCat® rope, tube or braided fabric

The image shows the three different possible points of application on a shower head. Generally, one of the three will suffice. The range of the repellent redox potential is remarkable – long-distance effect! For user friendliness we recommend placement directly at the shower head.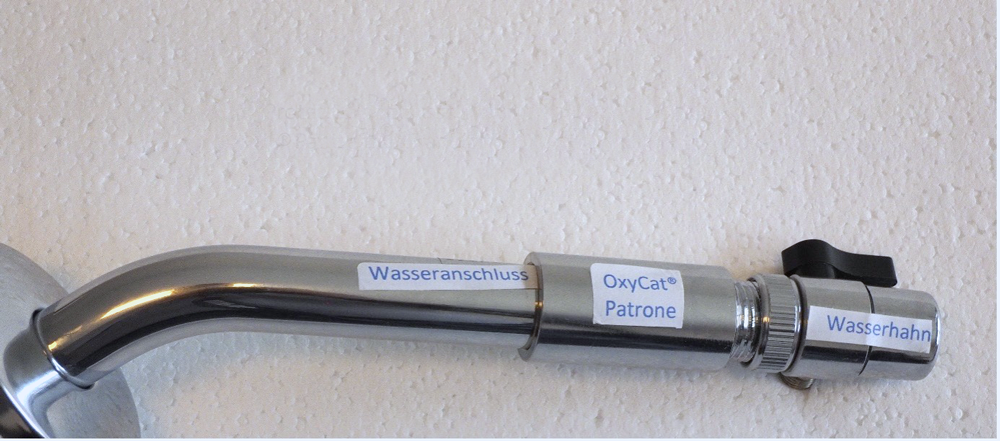 Products
OxyCat® Legio ProtectTM is available in three configurations and two materials:
Material
Material, casing and external tubes
Stainless steel with transparency regulation certification and standard interfaces.
Plastic, PP, FDA, standard interfaces
Individual casing available for large quantity orders.
Material OxyCat®
Rope, braiding, tube: PP/AG composite, SilverSan® surface
Granules Al2O3 granules, 2 mm, Ag coating, SilverSan® surface
Configurations
Step 1. OxyCat® raw materials to fill own cartridges and tubes. Step 2. OxyCat® in cartridges or tubes. Step 3. Ready to Market. Individually wrapped incl. artwork and own plastic casing on demand.
OxyCat® has been used in travel filters for over 20 years (German company). That means clean waters even in faraway lands. We are now adding a travel shower head to our product line. The handle contains a combination of OxyCat® and activated charcoal. The adapter allows application worldwide. If you are a manufacturer of water treatment systems, please reach out to us. We will be happy to discuss potential areas of cooperation application@pastaag.li OxyCat® is compatible will all common disinfection procedures – chlorine, ozone, peroxide, UV and membrane technologies.